news
Seeking Communications Coordinator
October 11, 2020
United Voices for Children is inviting applications for its part-time position of Communications Coordinator.  The Communications Coordinator works independently and collaboratively with the board of directors to develop a communications process that clearly expresses the vision and goals of the United Voices for Children.  A complete position description is available here:  Announce position Communications Coordinator.   Interested persons should send a cover letter and resume to unitedvoicesforchildren@gmail,com by October 31, 2020.
Celebrating Child-Serving Agencies & Giving Churches
August 6, 2020
United Voices for Children (UVC) presented an online celebration on August 5th to highlight the valuable services that its affiliated agencies provide to at-risk children, youth and families in Northern Illinois.  At the same time UVC honored 69 congregations in the Northern Illinois Conference that provide financial support to those agencies through UVC.
Kids Above All (formerly ChildServ), MYSI, and Rosecrance–UVC's affiliated agencies–provided information about the array of services they provide for needy children and youth.  Video presentations dramatized the many ways these agencies make a difference in the lives of struggling families.  
UVC presented $3,000 checks to each of these agencies from the funds collected from Northern Illinois congregations in the Fifth Sunday Appeal.  Rev. Jane Eesley (Christ UMC Rockford), Carey Bebar (Gary UMC Wheaton), and  Rev. Barbara Good (First UMC Evergreen Park) gave testimonies the importance of their congregation receiving a special offering on fifth Sundays so they can support UVC and its affiliated agencies.  UVC sent certificates to all 69 congregations that have provided financial support in 2019-20 and honored them by name at this event.
UVC also recognized its partnership with Illinois Voices for Children to encourage congregation and community members to complete the 2020 U.S .Census.  UVC affirms that the U.S. Census brings resources to kids and families in your neighborhood, so we can all help to make sure our communities get a full count and their fair share.
You can view a recording of the UVC Celebrates online event at this link.  You are encouraged to share it with other members of your congregation, and join together to make a donation to support these critical services to children and youth on the next fifth Sunday–August 30, 2020.  
UVC Celebrates Agencies & Church Giving
July 17, 2020
United Voices for Children (UVC) announces a special online gathering on Tuesday, August 4, 2020 at 1:00 pm: UVC Celebrates: Kids Above All, MYSI, & Rosecrance.  This event will feature the three affiliated agencies in the Northern Illinois Conference that advocate for and serve at-risk children, youth, and families:
Participants will also have a unique opportunity to hear about the outstanding work being done by each of these agencies.
UVC will also recognize and honor the 69 congregations who supported UVC over the past year through the
5th Sunday Appeal
. The generous, faithful giving of these congregations enables UVC to make a difference in the lives of needy children, youth and families.
In addition, there will be a special time of dedication for
Kids Above All
, formerly ChildServ. Bishop Sally Dyck will officiate this important marker for this 126-year-old child welfare age that began as the Methodist Deaconess Orphanage in Lake Bluff, Illinois.
Here is the link where you can register for the UVC Celebrates event:
After you register you will receive an email with details about how to join this Zoom webinar on August 4th.   You can also find the event livestreamed on UVC's Facebook page.
Please download the flyer below and send it to colleagues and other members of your congregation.
Count All the Kids
June 30, 2020
United Voices for Children has released Count All the Kids: A Call to Action to Faith Community Engagement in the 2020 U.S Census.   The report encourages faith groups to educate and empower  their communities to complete the census.  Since census information affects how federal funds and resources are distributed to local governments and communities, ensuring a full and accurate count in a community safeguards the well-being of children's lives.
Count All the Kids, prepared by the Reverend Robert Biekman, UVC board president, and Reverend Beverly Dukes, UVC policy coordinator, looks at theological, biblical and sociological perspectives for this census campaign.  The report also includes an interactive map that someone can use to check on the census response rate in their community.  Finally the report proposes concrete action steps that individuals and faith communities can take.
You can download a copy of Count All the Kids here.
Learn How UVC Is Raising Our Voices
June 2, 2020
Ninety persons participated in UVC's Raising Our Voices Annual Awards ceremony on June 9, 2020.   This virtual celebration honored outstanding ministries with children youth and families in Northern Illinois and provided opportunities to join with UVC in advocating on behalf of at-risk children.   Participants also made gifts totalling over $4,200 to support UVC and its affiliated agencies.  You can watch a recording of UVC's Raising Our Voices event at this link.    
New Policy Coordinator Is Beverly Dukes
May 12, 2020
United Voices for Children (UVC) welcomes the Reverend Beverly Dukes to its new position of Policy Coordinator.  In this role Rev. Dukes will identify and
coordinate the dissemination of public policy initiatives and legislation that impacts children, youth and families in Northern Illinois.  The Policy Coordinator will work with UVC's board of directors and serve as a resource to congregations in Northern Illinois on issues of public policy that affect our children.
Rev. Dukes has worked many years in public service and with children in state care, living in marginalized communities. She has completed extensive trainings in family systems, leadership, and managerial effectiveness. Beverly earned her Master of Science in Public Service Management at DePaul University where she studied public policy design, implementation, and analysis.
In this role with United Voices for Children, Rev. Dukes envisions identifying policies most affecting children by working with state, county and local child-serving and advocacy organizations. She plans to work with local churches to disseminate policies most affecting children and to enable them to advocate on behalf of children. Beverly looks to encourage churches to participate in ministries that support the interests of children and families. Lastly, she will use social media to share legislative updates regarding children's issues, to raise the conscience of viewers and to prompt advocacy.
"By working with United Voices for Children," noted Rev. Dukes, "I am looking to create an environment within faith communities that will become increasingly knowledgeable of children's issues and how best to advocate on their behalf—and to be their voice."
Beverly currently serves as lead pastor at East Side United Methodist Church in Chicago and has recently earned her Master of Divinity from Garrett Evangelical Theological Seminary. She has been recommended as a Provisional Elder by the Northern Illinois Conference, Board of Ordained Ministry and effective July 1st will be appointed to St. Andrew UMC in Homewood.
The Reverend Robert Biekman, president of UVC, stated that: "This new Policy Coordinator positions UVC to realize its goal of being a catalyst for generating support for addressing issues that impact children.  UVC can now be even more effective as conduit through which actionable information is shared with congregations, constituents and child-serving communities."
United Voices for Children is a coalition of groups and individuals within the Northern Illinois Conference of The United Methodist Church founded in 1979 and dedicated to speak and act on behalf of children, youth and their families who lack the voice of an advocate as well as to   nurture and support ministries of the Conference serving these children and youth.
UVC Seeks Policy Coordinator
February 18, 2020
United Voices for Children invites applications for a newly-created part-time position of Policy Coordinator.  This position will identify and and coordinate the dissemination of public policy initiatives and legislation that impacts children, youth and families in Northern Illinois.  The position will work closely with UVC's board of directors.  A full position description can be found here: Policy Coordinator Position Description.  Interested candidates can send a resume and cover letter indicating qualifications and interests to UVC President Robert Biekman at passb39@yahoo.com
UVC Enables "Delving Deeper" into Race
October 3, 2019
For the last three years, under the aegis of the theme Skin in The Game, United Voices for Children (UVC) has succeeded in creating courageous space and facilitating critical conversations on how race—on both a systemic and individual basis—affects the ways that children and families are served. This year's workshop, held on September 14th and entitled "Delving Deeper; Race and Well-Being," convened a diverse group of more than 50 people, including, faith leaders, educators and social workers who serve children and their families.
The workshop was facilitated by a team from Evanston Township High School led by Dr. Marcus Campbell (Assistant Superintended and Principal) along with Aracely Canchola (Department Chair for Student Services) and Taya Kinzie LCSW (Principal for Student Services). They shared how racial bias has historically tracked black and brown students out of honors/advanced placement classes. With a refreshing candor the team shared that Evanston Township School District had a long way to go, but they have begun the journey toward equity in educational opportunities.  UVC President Robert Biekman noted that "one of the elements of the workshop I found particularly illuminating was the way the presenters 'carefronted' participants by asking them to check in and share their feelings after a challenging subject was addressed." 
UVC board member Catherine Inserra spoke to the importance of the workshop: "Every day I hear stories in the news about racism and hatred which is so discouraging and scary.  Spending this time together with Marcus, Taya, Aracely and a room filled with people who truly care about others and were vulnerable to delve deeper was so encouraging. The presenters know what they are talking about because they live it every day in the context of a high school environment!"
The ideas and strategies presented by the leaders were further amplified by a panel of youth presenters: Dan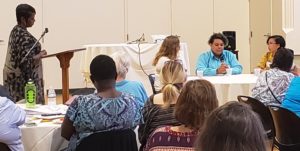 Barton from Trinity UMC Mt. Prospect; Emily Laureano, Lakeside Congregation for Reform Judaism; and Natalie Overstreet, Community UMC Naperville. The youth spoke frankly and honestly about the challenges they face navigating racially-diverse settings in their schools and community.  The youth panel was moderated by UVC board member Pamela Pirtle who reflected that: "Our panel of young persons was excellent, diverse and insightful.  All of the adults who attended learned something from their well-thought responses."
UVC board member Joy Hayag noted the significance of the workshop for her as someone who has stepped into U.S. society and culture.  "Moving here and learning how to embrace the American culture and still not losing the identity and my roots has been a challenge. Being a Filipina and sometimes being the only Filipina Asian in a group is sometimes difficult, especially experiencing always being the minority. I have learned to love and accept and be proud of my culture and color and accent. There is always that fear of being rejected for being different in color, in actions, in dress and in communications."
UVC board member Jacki Bogolia summarized the affirmative reaction of many participants: "I feel both grateful and hopeful after attending this workshop–grateful for the presenters and youth panel who shared their insight, wisdom and real-life experience of race as it impacts learning, success, and human relationships; and hopeful after gathering with so many folks who were willing to become aware (perhaps for the first time) of how race continues to be used as an intangible, sometimes invisible, tool to categorize, divide, privilege and condemn human beings."
UVC board member Timothy Biel echoed these observations: "Great presentation by the ETHS team on racial bias. Their message is hopeful and engaging. I was encouraged by the elimination of the advanced placement testing for high school classes and how that impacts access to A.P. classes for all students.  I liked how they challenged us to view our assumptions about race and ethnicity, giving us time in small groups to discuss what our thoughts were. The youth panel kept it real, engaged the participants with honesty and urgency."
It has been many decades since the 1963 March on Washington where Martin Luther King's "I Have a Dream"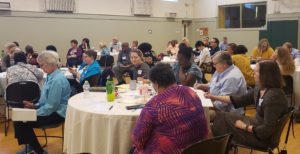 speech was delivered. Yet none of us can say we have fully lived up to Dr. King's vision of a land where each person would be judged by the content of their character, rather than the color of their skin. Through events like Skin in the Game, United Voices for Children continues to address the ill-effects of racism by be a conduit for information and a catalyst for support to advocate for children and their families.
United Voices for Children expresses great appreciation to the Northern Illinois Annual Conference for co-sponsoring the Delving Deeper workshop and to Downers Grove United Methodist Church for its gracious hospitality in hosting the workshop.
Register Now for Delving Deeper: Race & Well-being Workshop
June 13, 2019
Registration is open for the Delving Deeper: Race & Well-Being workshop coming up on Saturday morning, September 14, 2019.  Delving Deeper will feature Dr. Marcus Campbell, Aracely Canchola and Taya Kinzie, LCSW–Evanston Township High School's best–engaging participants in a deeper look at the interconnectedness of race and well-being, reflecting on personal identity and biases as they relate to our relationships with others.  The workshop is intended for a wide variety of community practitioners: social workers and social service agency staff; teachers and educational administrators; law enforcement personnel; first responders; as well as clergy and children's & youth workers.   The workshop will highlight how healing-centered engagement and restorative and sustaining practices are key to understanding the number and complexities of needs in the lives of those we serve and support.   
Delving Deeper will be on Saturday, September 14, 2019, from 8:30 a.m. to 1:00 p.m. at First UMC in Downers Grove, Illinois.  Register by September 9th at this link. After that date, call 773-316-8892 to ensure space available.  The $25 fee includes lunch.
Delving Deeper is the third annual Skin in the Game workshop sponsored by United Voices for Children and the Northern Illinois Conference of The United Methodist Church seeking to challenge and equip religious and community leaders to overcome the deleterious effects of racism in our communities and our families.  
You can download a flyer to share with others here: Delving Deeper flyer. 
Direct any questions to unitedvoicesforchildren@gmail.com
UVC Announces Annual Awards
April 30, 2019
United Voices for Children has announced the recipients of its 2019 annual awards for outstanding advocacy and service for children and youth throughout Northern Illinois.  The Bishop Jesse R. Dewitt Award will be given to Rev. Dr. Norval Brown for his years of dedicated advocacy for and ministry with children, youth and families in need.  The Katherine B. Greene Child Worker Award goes to two recipients: Leigh Ann Piper of Lanark UMC for founding the Pitter Patter Pantry to serve children of low-income families in Carroll County and to Ann Daniels of Christ UMC Rockford for 41 years of service leading children's programs in the church and community.   The Rev. Margaret Ann Williams Service Award will be given to Sharonda King of Christ the Carpenter UMC in Rockford for developing and leading two praise dance teams for children and youth.     
These persons will be honored at the United Voices for Children (UVC) Breakfast on Tuesday morning, June 4th, at 6:45 a.m. during the Northern Illinois Annual Conference session at the Renaissance Schaumburg Convention Center in Schaumburg.  To make a reservation for the gala UVC Breakfast ($20/person) contact  unitedvoicesforchildren@gmail.com by May 24th. 
The Breakfast will also feature Avik Das, Chief Probation Officer and Acting Director, Circuit Court of Cook County, speaking on "Chutes and Ladders: Positive Youth Justice."  United Voices for Children is a coalition of congregations and individuals in Northern Illinois dedicated to speak and act on behalf of children, youth and their families as well as to support ChildServ, MYSI, and Rosecrance which are United Methodist-affiliated youth-serving agencies.