5th Sunday Appeal
Since 1979, Northern Illinois congregations have provided over one million dollars to support United Voices for Children's affiliated agencies—ChildServ, MYSI and Rosecrance—through the Fifth Sunday Appeal. Congregations participate by inviting their members to give to a special offering on the fifth Sunday of any month (happens four times a year). Through this collaborative giving effort dozens of United Methodist congregation of all sizes are able to make a real difference in the lives of children, youth and families in need.
United Voices for Children is grateful to the 117 congregations in the Northern Illinois Conference (see list below) who have participated in the Fifth Sunday Appeal over the past four years.
Contact unitedvoicesforchildren@gmail.com for more information on how your congregation can participate in the Fifth Sunday Appeal OR to order special offering envelopes (no charge). When ordering envelopes, indicate the quantity needed and the address for shipping.
Congregations send in gifts they receive for United Voices for Children (UVC) to the Northern Illinois Conference Treasurer's Office along with other apportionment and benevolence funds.  The Treasurer's Office deposits these funds to UVC.  Gifts designated for United Voices for Children can be indicated with a fund code of 778 or simply writing "for United Voices for Children."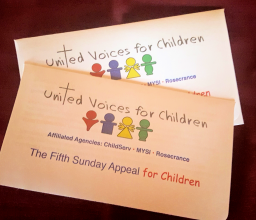 Participating Churches
AURORA DISTRICT
Aurora: Bethany of Fox Valley UMC
Aurora: Fourth Street UMC
Aurora: Wesley UMC
Downers Grove: First UMC
Geneva UMC
Glen Ellyn: St. Thomas UMC
Joliet: Grace UMC
Joliet: Hope UMC
Joliet: Ingalls Park UMC
Lemont UMC
Lisle: Faith UMC
Lockport: Christ UMC
Lockport: First UMC
Manhattan UMC
Millbrook UMC
Minooka UMC
Mokena UMC
Naperville: Grace UMC
Naperville: Wesley UMC
New Lenox UMC
Orland Park: Faith UMC
Oswego: Good Shepherd UMC
Plainfield UMC
Plano UMC
Wheaton: Gary UMC
Woodridge UMC
CHICAGO NORTHWEST DISTRICT
Chicago: Edison Park UMC
Chicago: Resurrection UMC
Evanston: First UMC
Evanston: Sherman UMC
Glenview UMC
Oak Park: Euclid Avenue UMC
River Forest UMC
Skokie: Central UMC
Wilmette: Trinity UMC
CHICAGO SOUTHERN DISTRICT
Aslip: Christ UMC
Broookfield: Brookfield Compassion
Chicago: Clair Christian UMC
Chicago: First UMC (Temple)
Chicago: Gorham UMC
Chicago: Greenstone UMC
Chicago: Hartzell UMC
Chicago: Kelly Woodlawn
Chicago: Maple Park UMC
Chicago: Morgan Park UMC
Chicago: St. Mark UMC
Chicago: Trinity UMC
Cicero: Wesley UMC
Crete UMC
Evergreen Park: First UMC
Hazel Crest: Community UMC
Homewood: St. Andrew UMC
LaGrange: First UMC
Lansing: First UMC
Olympia Fields UMC
Western Springs UMC
DEKALB DISTRICT
Chana UMC
DeKalb: First UMC
Dixon: Grace UMC
Earlville UMC
Erie UMC
Esmond UMC
Franklin Grove UMC
Kingston UMC
Leland UMC
Maple Park: Grace UMC
Mendota: First UMC
Morrison UMC
Mt. Morris: Disciples UMC
Oregon UMC
Ottawa: Epworth UMC
Ottawa: Evangelical UMC
Ottawa: First UMC
Princeton: First UMC
Prophetstown UMC
Rochelle UMC
Serena UMC
Steward UMC
Sycamore UMC
ELGIN DISTRICT
Antioch UMC
Arlington Heights: First UMC
Bartlett: Good Shepherd UMC
Elgin: Epworth UMC
Elgin: First UMC
Elgin: Wesley UMC
Elk Grove: Prince of Peace UMC
Elmhurst: First UMC
Hebron UMC
Lake Bluff: Grace UMC
Libertyville UMC
Mount Hope
Roselle UMC
Schaumburg: Our Redeemer's UMC
South Elgin: Community UMC
Villa Park: Calvary
Waukegan: First UMC
Wood Dale Community UMC
Zion: Memorial UMC
ROCKFORD DISTRICT
Apple River UMC
Argo Fay UMC
Durand UMC
Elizabeth UMC
Freeport: Faith UMC
Freeport: First UMC
German Valley UMC
Hanover UMC
Milledgeville UMC
Mount Carroll UMC
Poplar Grove UMC
Rockord: Beth Eden UMC
Rockford: Brooke Road UMC
Rockford: Christ UMC
Rockford: Court Street UMC
Rockford: Harlem UMC
Rockton UMC
Scales Mound UMC
Shannon: Bethel UMC
Stockton: Wesley UMC
Thomson UMC
Warren UMC
Willow UMC